I would like to share with you all the things that keep me a clean girl. o_O Basically lotions, sprays, deodorants, cosmetics and such
Lotion(s)
:
Nivea Cream
: Marilyn Monroe swore by this cream and so do I. I have dry skin, and this keeps moisturized all day long
Olay Body Quench
: On days when I don't feel like using Nivea, I switch to this creme. It has a great smell and makes my skin noticeably smoother. I love almost as I love Nivea.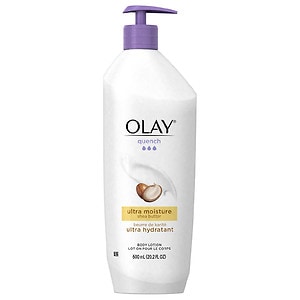 Body Wash(s):
Caress Exotic Oil Infusions in Moroccan:
Ugh this smells SOOO good that it makes me want to stay in the shower for an extra five minutes. And the smell stays on after the shower. Plus it gets me pleasantly clean.
Olay Ribons Body Wash
: These are so great on day where I know I'm late and won't have time for lotion. They're basically a body wash and lotion combined.
C.O. Bigelow™ Mentha Body Vitamin Body Wash:
This body wash is like a kick in the face in the morning. A great mint smell and tingling sensation. I love using it when I have a cold, clears my nasal passages and gets me in gear for the day.
Facial Care(???):
Dove® Cool Moisture™ Foaming Facial Cleanser:
I have acne prone skin and this is perfect for just that. It feels like a thick cream that smooths over my face, that doesn't at all leave me face feeling dry.
Dove Beauty Bar:
You can't go wrong with the original. Great to use after my heavy makeup days. And yes, on occasion I travel around with it.
Aveeno Clear Complexions Daily Cleansing Pads
: After a week of using this people complemented me on how great my skin looked. I don't use it daily like I used to, but I do if I'm in a rush or feel like my face is dulling up.
Evian Mineral Water Facial Spray:
I splurged on this and I am so glad that I did. Sometimes I feel like my makeup is getting dry or my face is getting oily and shiny so I spray this right over the makeup, blot dry and voila! A fresh face. I give this product five stars and I recommend it to everyone I know who wears makeup
Body Scrubs:
Neutrogena Energizing Sugar Body Scrub
: I'm not a big fan of body scrubs because they make the bottom of my tub extremely slippery, but I use them to get my dull-and-dried-by-winter-skin ready for summer. This one is perfect! It has a citrus smell and makes me feel polished right after my shower.
COSMETICS
Eyelashes
Maybelline define-a-lash Mascara
: Another product that recommend to everyone and swear by. People always ask me if I'm wearing fake eyelashes when I wear this. Plus it's easy to take off.
Maybelline Great Lash Mascara
: Everything that you've heard about this mascara are true. It was my first that I've ever used and I will always use it.
Eyes:
Urban Decay
: If it's from Urban Decay then I love it!
Lips:
NARS Lipstick in Porte Vecchio, Hindu, and Vera Cruz:
These complement my skin tone beautifully:
Bigelow Mentha Lip Tint in nude
: Minty and a little color= Pure Lust. Plus it freshens my breath!
Lip Smackers
: I don't think I can ever give this product up. Tastes great and makes your lips look great. I love everything from this line.
Face:
Loreal True Match Super Blendable Powder in Nut Brown(C7)
: Goes smooth on my face, doesn't irritate my skin, lasts long and comes off easily.
Loreal True Match Super Blendable Blush
: Just as great as the powder. And a great add on for a night out.
Toilet Seat Covers
: Now I know this is weird, but I heard somewhere that Sarah Jessica Parker uses these to blot away excess oil on her face. So I tried it when I went out to a restaurant, and they work! They have silicone or something on it. So whether SJP uses them or not, I don't know but they are great, and free! Lol.
Eyeliner
Prestige Liquid Eyeliner
: I have yet to find n eyeliner that works as well as Prestige's. Easy to put on, lasts all day and comes off easy. Just how I like my cosmetics!
MAC Eye Koh
l: Great for a smokey or dramatic eye.
Deodorant
Dove Ultimate Clear Deodorant
: Goes on clear and keeps you smelling fresh all day long.
Dove deodorant Aeroso
l: Great for my on-the-rush days, which by now you'll notice that I have a lot of.
Body Sprays:
I wear Perfume(cocoa mademoiselle, Kenneth Cole Black, Juicy) but sometimes I like to just use a spray throughout the day. Sounds weird but it's something that I've done ever since middle school.
Victoria's Secret Sheer Body Mist-Pink
: I love VS pink line so of course I would fall for the scent as well.
Demeter Fragrance Library
: Sex on the beach & Between The Sheets: I love these scents! Perfect for the summer and definitely perfect for a bedroom affair ;)
B&BW Warm Vanilla Sugar Body Spray
: My all time favorite scent from bath and body. I will be extremely upset if they discontinue this like they do most of my favorites...
WOW
! Well that is
ALOT
! And I still have more, but I think that I'm going to stop here. These are after all my favorites. Plus about
95%
of them are easy on the wallet. Just the ways that I like to shop most of the time, hehehe. I recommend all of these to anyone who happens to fall upon this site. Enjoy